Dear Students (and Parents and Teachers),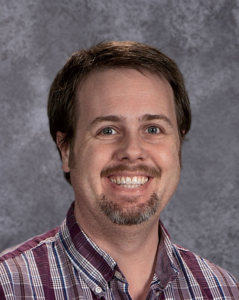 Welcome to my website. I created it so that you have one more way to get the information you need to do well in my class.
I have taught at Goodson Middle School since the 2006-2007 school year. I currently teach Touch System Data Entry (also known as "TSDE" or "Keyboarding"), Business Information Management ("BIM1"), Intro to Computer Science, Principles of Information Technology ("PIT"), and Pro Comm ("Speech").
At the end of 2019, I stepped down as Goodson's Yearbook advisor and Journalism teacher after holding the position for ten years. In previous years, I have taught seventh grade and eighth grade Language Arts. My ultimate goal as a teacher is to help you love to learn. If you love learning, then success follows. Each of you should be able to find something that fascinates you in each class you take.
I received my Masters Degree in Education in May 2008, from the University of Houston: Go Cougars! Prior to that, I received a Bachelor of Arts in Philosophy from the University of California, Santa Cruz in 1999: Go Banana Slugs! Before teaching, I worked repairing and building computers and networks for about five years. I picked up webdesign along the way, and I continue to build websites, computers, and networks when I'm not teaching.
I come from a family of educators — including a librarian, teachers, and administrators. It took until after I graduated from college to make my way to the field of education, but I am proud to now be a teacher. The merging of creative, technical, and educational knowledge has lead me to facilitate to the creation of the Grizzly Tales books and to writing an article about Print On Demand in English Journal.
I live in Fairfield with my wife, daughter, and five cats. My niece, nephew, my sister, and my brother-in-law live just a bike ride away, and my mom lives near downtown. We're all originally from California. My wife and I love to go to concerts, travel, watch movies, and read. You might also see us out biking or walking when the weather permits. I continue to follow the tech industry by reading blogs and listening to podcasts. I also enjoy shows on the Science Channel such as How It's Made and Survivorman.
I believe teaching is a job worth doing, and I am dedicated to helping you be as successful as possible. Please contact me with questions, concerns, to celebrate success, or to lament a failure.
Kind Regards,
Zachariah Heyer, M.Ed.
Teacher: Touch System Data Entry (Keyboarding), Business Information Management, Computer Science, Principles of IT, and Speech
Goodson Middle School – CFISD.net